by Jedlickas
July 31st, 2014
By Herald de Paris Contributor's Bureau on July 31, 2014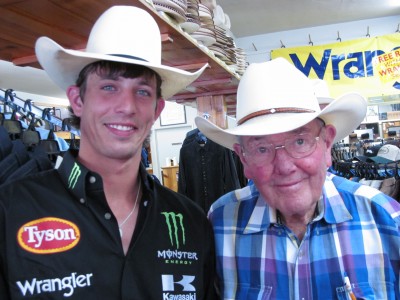 By Anna Wilding, Contributing Editor
SANTA BARBARA (Herald de Paris) – Old Spanish Days, Santa Barbara's Fiesta, is holding its 90th Anniversary this year. The popular opening La Fiesta Pequena was held at the old Mission last night. Events, fairs, cultural tours, and dances are popping up all over town -two Mexican markets run daily, El Mercado Del Norte and El Mercado De La Guerra. The historic Courthouse and sunken gardens play host under the night's stars, and open the floor to the public, for Flamenco and early Spanish Californian dances. Most of the events that run during the week and weekend are free, with a "come one and come all" approach.
One of the biggest parts of Santa Barbara history, its Spanish settlers, and therefore some of the weeks events, revolve around horses and their riders. Be it ranchers, cowboys, gauchos, show jumpers through to Polo players, Santa Barbara has one of the oldest Polo Club in America. It is hard to be part of Santa Barbara and the Central Coast culture without embracing "The horse."
Chances also are, if you are doing anything "equine" in Santa Barbara or it's surrounding regions, you will pretty quickly find yourself at Jedlicka's , the oldsest saddlery and outfitting store in Santa Barbara. A family business, headed for decades by the warm and charasmatic Si Jenkins (pictured), this store remains the heart and soul of these parts.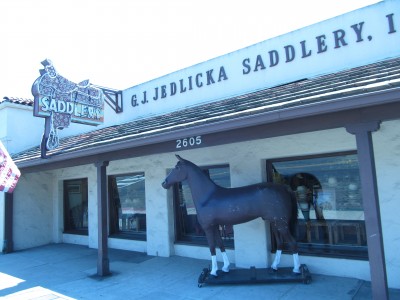 We popped in today. The store, as popular as ever, had dozens of poeple, of all ages, swarming around and waiting to eagerly meet, "Cowboy of the day," the talented, and very good looking JB Mauney. Now I know nothing about rodeos, cowboys, or bull riding but apparently this "million dollar" cowboy can do it all and is particularly adept at wrestling bulls.
Jedlicka'sNow the most well known bull in America right now, who is a sporting legend , is called BUSHWACKER, and this is who the young 28 year old JB Mauney intends to stay on top of tonight. I ask JB if he ever gets scared. "Nope, never, I been doing this all my life." JB is from a ranch in North Carolina. His grandfather a cattle rancher, and his father a steer wrestler. JB has hurt himself, "Several breaks and falls. All the time," he says, and asked if he has traveled overseas he said he couldn't, as the flights are too painful with his now healed broken bones. He said, "It was sore enough flying from North Carolina to here, my limbs swell." Happily enough, he continued signing guests posters and cowboy hats, saying he would have no idea what to do if he didn't do this. "Farm cattle?" he queried. Yes well maybe.
With that athletic build and those looks, the world will be his oyster.
- Read the article at: Herald de Paris